Dryers and aftercoolers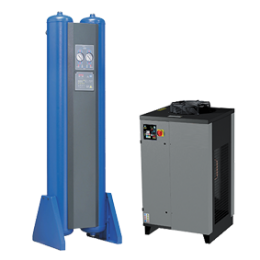 Compressor dryers

- a wide selection of professional refrigeration dryers and Vervo adsorption dryers
The compressed air produced by the compressor contains a significant amount of impurities; solid and liquid particles, the main fraction of which is water vapor. Water present in pressurized conditions may cause corrosion of installations, pneumatic and receiving devices. It also reduces production efficiency, obviously increasing operating costs.
The highest quality compressed air, and consequently ensuring the continuity of production processes, requires the use of specialized devices, such as refrigerated or adsorption dryers.
Refrigeration dryer - a compressor dryer to maintain the correct dew point
It is usually sufficient to use refrigerated dryers to reduce the water content in compressed air. This compressor dryer maintains a pressure dew point of +3 degrees Celsius, which corresponds to the atmospheric dew point of -22 Cº.
Adsorption dryer - a specialized compressor dryer for advanced applications in industry
In special cases, such as: installation in outdoor conditions, transport of hygroscopic materials, special production processes, power supply of receiving devices in the chemical, pharmaceutical industries and laboratories, it is recommended to use specialized devices, such as adsorption and refrigeration dryers, which virtually completely eliminate particles water from the compressed environment. The compressor dryers we offer (HL series adsorption dryers) enable a constant dew point of -40ºC or -70ºC.
Vervo Łódź refrigeration and adsorption dryers - how to order a compressor dryer?
You can view and place an order for our equipment via our website or in a stationary showroom in Łódź.