Measuring technology for gases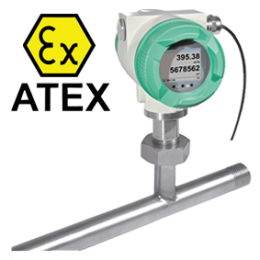 CS Instruments
Firma Vervo jest autoryzowanym dystrybutorem CS Instruments Germany. W swojej ofercie posiadamy szeroką gamę profesjonalnych urządzeń do pomiaru parametrów sprężonego powietrza. Są to przyrządy służące do pomiaru zużycia sprężonego powietrza (VA 500, VA 520), czujniki ciśnienia, czujniki temperatury i czujniki ciśnieniowego punktu rosy (FA 410, FA 415…).
Oferujemy również specjalistyczne urządzenia do rejestracji i wizualizacji powyższych parametrów takie jak DS 300 i DS 500. Dzięki opcji łączności z serwerem możemy po zalogowaniu, sprawdzać dane z poszczególnych czujników z dowolnego miejsca na świecie. Metodą wykorzystywaną do pomiarów w naszych czujnikach jest metoda kalorymetryczna. Dzięki zastosowaniu zintegrowanych profili pomiarowych, możemy uzyskać dokładność odczytu na poziomie 0,05%.
Do oferowanych przez naszą firmę urządzeń można zamówić certyfikat ISO, który gwarantuje najwyższą precyzję pomiaru oraz umożliwia wykorzystanie czujnika np. do rozliczeń międzydziałowych. Dzięki najnowszemu rozwiązaniu firmy CS Instruments jakim jest inteligentny rejestrator danych DS. 500 możemy oprócz naszych czujników podpinać czujniki innych producentów co pozwala na integrację całego systemu pomiarowego w przedsiębiorstwie.
W obecnych czasach wiele firm chcąc ograniczyć koszty sprężonego powietrza szuka urządzeń wykrywających nawet najmniejsze nieszczelności. W odpowiedzi na to zapotrzebowanie dodaliśmy do naszej oferty ultradźwiękowy wykrywacz nieszczelności LD 300 umożliwiający wykrycie nawet mikrowycieków w instalacjach sprężonego powietrza. Ich likwidacja może przynieść znaczące oszczędności zużycia energii elektrycznej i tym samym przyczynić się do ograniczenia kosztów produkcji.
Swoim klientom oferujemy możliwość zapoznania się z naszymi produktami na prezentacjach prowadzonych przez specjalistów z działu opomiarowania. Posiadamy autoryzowaną grupę serwisantów i monterów, która może dokonać instalacji czujników i rejestratorów na terenie całego kraju.