Vane compressors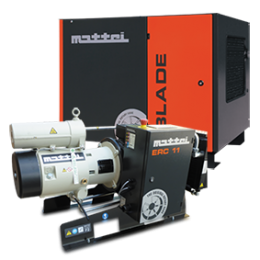 Mattei air compressors
Over 100 years of experience in the design and production of vane compressors
For over 50 years, Mattei has been continuously developing blade technology, taking into account the latest achievements of science and technology. In parallel with the development of technology, the R&D department conducts research on the selection of materials so that Mattei compressors are not only the most effective devices TODAY, but also constitute a model for compressors that will be created in the future.
Regardless of the industry - Mattei vane compressors are the most durable and cheapest in operation
Just imagine the most energy-efficient air compressors equipped with compression stages without rolling bearings, operating for up to 100,000 operating hours without renovation. Add low-speed technology and lossless, maintenance-free drive technology. Additionally, the lowest rotational speed of the compression stage among compressors contributes to the reduction of energy and service costs. The unique features of Mattei technology, compared to other designs, are a source of measurable financial benefits and operational certainty for users.
Mattei compressors - advantage over others
The most important and expensive compressor component is the compression unit (RSU). The horizontally oriented RSU, the rotor supported on two bearings and the low rotational speed unattainable for other designs (from 1000 rpm) mean up to 100,000. working hours until the first renovation.
A direct flexible clutch, unlike a belt transmission or gearbox, transmits power losslessly from the engine to the compression stage. It also does not require periodic maintenance, significantly reducing energy and maintenance costs.
Before being shipped to the user, each Mattei compressor is subjected to numerous detailed analyzes and tests in various operating conditions. All information regarding the electrical, mechanical and operating parameters of the rotary compressor is recorded via a wireless data transmission system.
3D Quality Control
The quality control of components manufactured by Mattei is carried out using the most modern and precise three-dimensional measurement devices. This ensures the highest standards are maintained.
Precision
Mattei's production processes use state-of-the-art industrial robots and digitally controlled machining centers. The assembly of components is carried out by qualified employees in accordance with strictly defined operational procedures and the Mattei quality management system - read more.